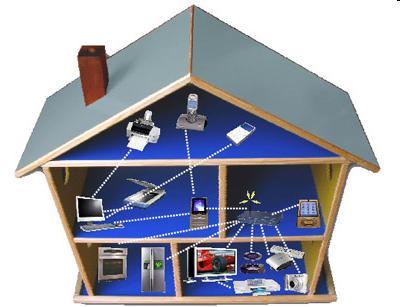 Home Automation, Security and Networking.....Imagine the possibilities and SmartObject can help you to implement!
Lighting: Control room lights to dim to preset "scenes" such as "dinner", "movie", "party", etc... Or, for example, automate the control of an exterior security lighting system.
Music: Select and control music from multiple sources (such as CD's, MP3's, Satellite radio, etc...) and transmit to selected rooms throughout your home.
Home Theater: Automate and program your Home Theater so, for example, a single button could dim the lights, close the drapes, and start a DVD movie.
TV: Transmit Video (such as DVD or VHS) and TV signals to various rooms in your home via a Home Automation wired or even wireless network system.
Security: Connect multiple security cams into your video network for viewing on any TV in your home or from a remote location via the hi speed Internet.
Climate Control: Control and monitor temperature with low voltage temperature control systems from several locations in your home or remotely via the Internet.
Home Computer: Integrate your home PC into your total home network to transmit Video, Music, and Digital photos to your home entertainment system.
Other Systems: Control and automate numerous other systems such as gates, garage doors, security door locks, drapes, sprinkler systems, fountains, hot tubs etc..., using low voltage control systems.